Galvanized steel sheet feed grain storage silo
Describe
The composition of the steel plate silo:silo roof,silo barrel,silo roof guardrail,ventilation hole, manhole,silo door,silo roof and silo.The thickness of the zinc layer of the galvanized sheet used is 275 / M2.In addition,350g / m2 or 400g / m2 galvanized sheet can be used according to customer requirements.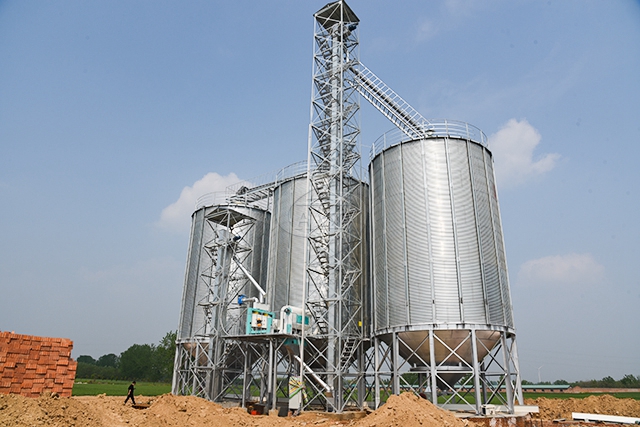 Application
It is used to store various raw materials such as wheat, soybean, corn, rice, animal feed and sunflower seeds,rapeseed and so on.
Parameter
Model
Volume (m³)
Number of columns
Height (m)
Cylinder Height
Peak Height
TCK09108
642
10
9.015
11.155
TCK09109
716
10.135
12.275
TCK09110
790
11.255
13.395
TCK09111
864
12.375
14.515
TCK09112
938
13.495
15.635
TCK09113
1012
14.615
16.755
TCK09114
1086
15.735
17.875
TCK09115
1160
16.855
18.995
TCK09116
1234
17.975
20.115
TCK09117
1308
19.095
21.235
We supply grain and feed storage silos with capacity of 3-30000 tons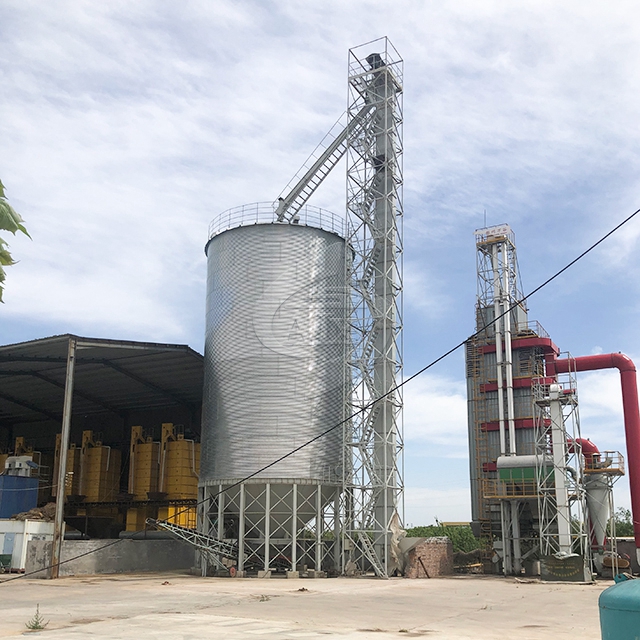 Features
1.All steel plates are made of high-quality hot-dip galvanized sheet,which has a long service life and can be used for 40 years.
2.The diameter of the cabin can be selected from 1.8-32 meters according to the user's output requirements.
3.On-site assembly,simple installation and short construction period.

Auxiliary equipment:ventilation system,material level,weighing sensor system,temperature measurement system,electronic control system,conveying system,cleaning system,etc.

Our Services
1.Design and manufacturing services.
Design production lines,design process flow and production line configuration for customers according to user needs.
2.Information services
Get customers' opinions and requirements on the machine, guide users to use and maintain the
Inquiry
We not only provide a good product, but also provide high quality service. If you are interested in our products, you can contact us in the following ways.